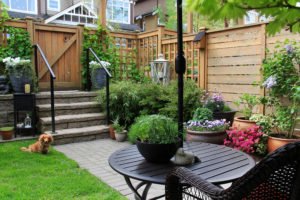 It's prime selling season! Sellers tend to get advice from all sides when they're preparing their house for the market, with staging among the top recommendations. When the weather warms up and more people are out house shopping, it's important to maximize appeal to those potential buyers. What about your backyard? Backyard staging is every bit as important as curb appeal and interior staging. You want potential buyers to picture themselves enjoying summer sunsets and social gatherings there, too! Take a look at some of our tips for backyard staging, and let's get your house sold quickly and for as much money as possible.
Tips and Suggestions for Backyard Staging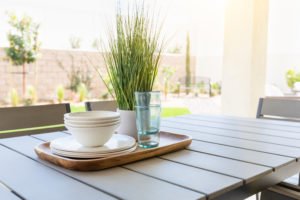 Clear away the clutter – Take a walk around the perimeter of your yard and pick up any stray toys, balls, garden implements, and garbage. You may not see it when you're living in the space day-to-day, but a potential buyer totally will. They have eagle eyes, and they're thinking, "If I buy this house will *I* be the one who has to clean this up?"
Spruce up your landscaping – You've probably taken care of the front of your house, but give the backyard the same TLC. Weed, trim shrubs and bushes and remove yard decorations. Potential buyers may not love garden gnomes as much as you do.
Powerwash hardscapes and fences – You'd be amazed at what a powerwash can do. Rent a powerwasher at your local Home Depot or Lowe's, and spray off the grime and buildup. Also, if any of your yard structures are in need of repair, take care of that as well.
Flowers and greenery – Plant some colorful flowers and greenery in the beds and/or decorative pots to brighten things up.
Lighting – String lights in a gazebo, sconce-style lights on the side of the house are both good choices for indirect lighting. Solar-powered yard stake-style works well, too.
Create Zones for different uses – Help buyers see what they can do with the backyard space by arranging the yard for different activities.  An outdoor dining table and chairs in one area, set up a hammock or a garden bench in another area (a shady spot is perfect for this!) but leave an area open in the middle – give the impression there's room for entertaining, solitude, and play.
Leave some room – Ideally, you want to create a good flow around the backyard, so be aware of how much furniture and other items you have outside. Clutter isn't good, so you may want to remove a few pieces of patio furniture to achieve this end.
Are You Ready? Get Your House Sold!
Our professional agents know their markets and their communities. Contact Blue Dot Real Estate today and we'll help you get ready for your big change!